The new heights of US equities: What's contributed to the rise in the US stock market?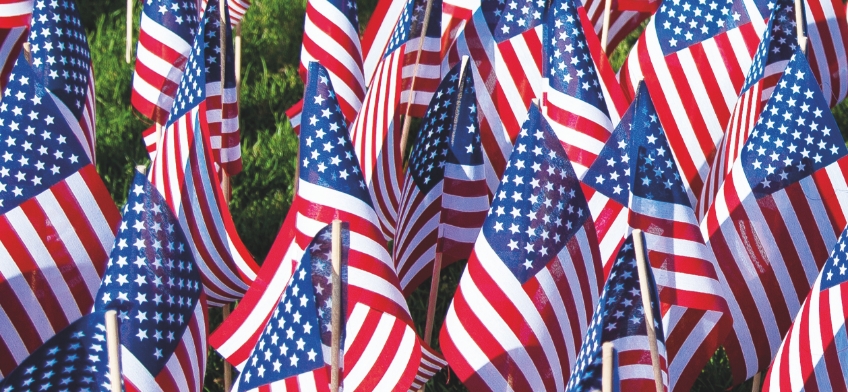 Just three of the largest companies quoted on the US stock market – Microsoft, Apple and Google (Alphabet) – are now worth more than the entire UK stock market combined (by market capitalisation) [1]. Quite a sobering thought for a region that has historically always punched above its weight. So what is behind this rise in US equities?
There's no escaping the reality that the UK's position as a leading world stock market is fading. A decade ago the UK stock market represented over 8% of the global equity market, but today that figure has halved to below 4% [2]. By comparison the US stock market clearly dominates the rankings, accounting for a considerable 58% [3].
In this article we will look at the some of the reasons behind what's been driving these changes and what it may mean for investment portfolios.
How have the tech-titans helped drive the US stock market higher?
Along with the three tech-titans mentioned above, Amazon is the fourth member of the 'US trillion-dollar club'; companies that have become part of the fabric and culture of how we interact with the world and those around us.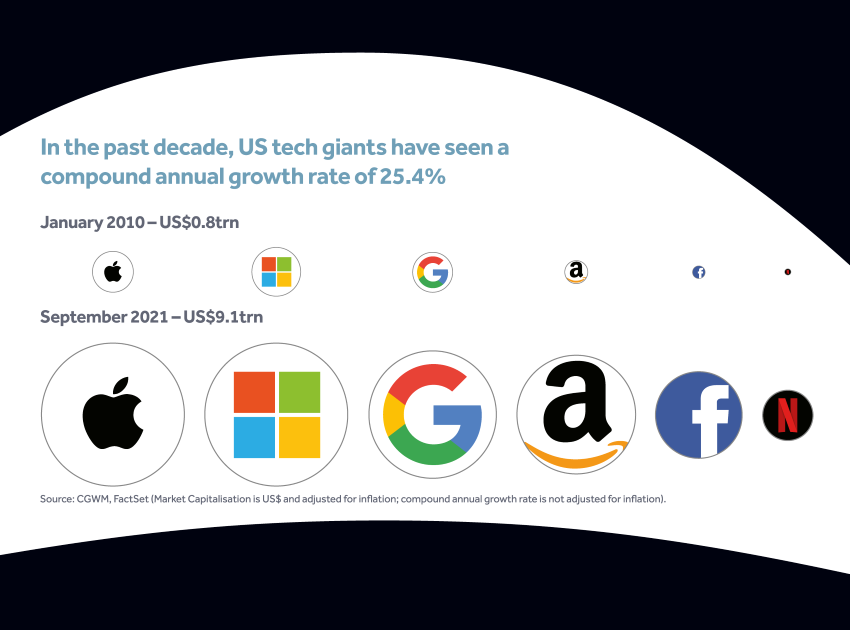 Over the past decade or so, their respective successes and those of the wider technology sector have helped drive the US stock market and global equity indices to new heights. The remarkable share price performances have been driven by soaring profits and exemplify the power of network effects. They have also proved to be less vulnerable to economic cycles, particularly when compared to other more traditional industries.
How have technology companies impacted global stock markets?
It has been a transformative decade for the technology sector and in turn for the composition and makeup of global stock markets.
In fact, at present nine out of the ten largest companies globally (by market capitalisation) can all 'loosely' be considered technology companies – the exception being Saudi Aramco, the world's largest oil company. Such has been the success of the US tech sector that it now represents around 30% of the US stock market, rising to 40% if you include Communication Services [4]. This has been fed by a red-hot IPO (Initial Public Offering) market, which over the years has brought innovative and transformative companies and technologies to the US market.
The UK's position and reputation continue to suffer in this respect. If we look back to 15 years ago, almost 20% of all companies globally would choose to go public (IPO) on the London Stock Exchange. Fast forward to the present day and that figure has fallen to just 4% [5]. The US market now clearly dominates as the leading market for companies to go public and raise capital, followed by China, and their respective IPO statistics dwarf those of the UK and the rest of Europe.
Why is the UK stock market considered an 'old economy'?
It's true that the UK is home to some truly fantastic and superbly managed companies. However, it has been struggling with its reputation as something of an 'old economy' stock market for many years now – dominated by banks and energy companies that have become increasingly out of favour. In stark contrast to the US market, the technology sector represents only around 3% of the UK stock market [6] (vs 30% for the US).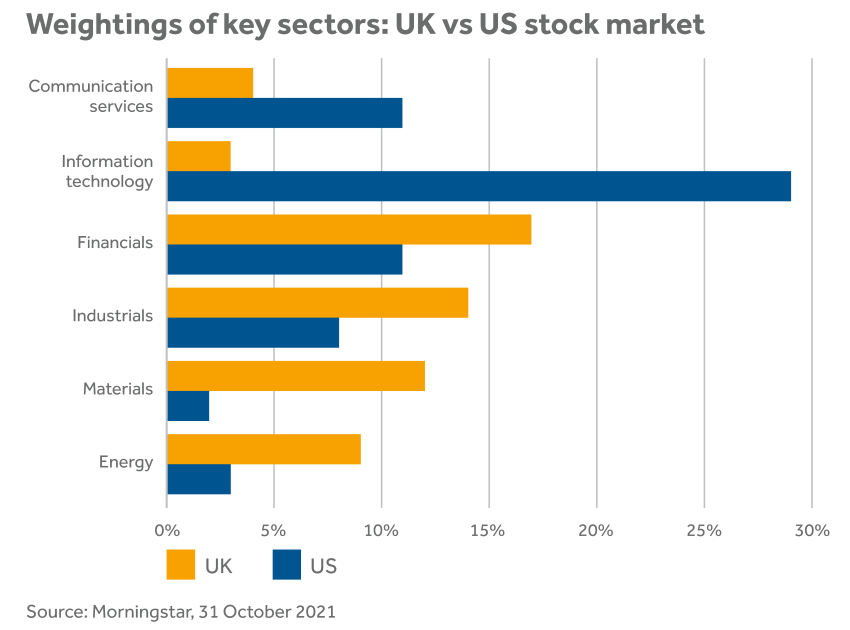 In 2021, the likes of Darktrace, Wise and the less successful (at the time) Deliveroo still chose to list publicly in the UK. However, the failure of the UK stock market to attract more of the arguably exciting and innovative companies to go public in London over the past decade or so is doing its image no favours and will surely make it harder to shrug off in the years to come.
Additionally, with such a contrast in sector composition when comparing the UK and US stock markets, in a period where the technology sector has dominated, we have seen a large differential in performance. As a result, the UK stock market has been increasingly shunned by investors, with Brexit uncertainty and a weakening currency only compounding this.
Can the UK stock market still offer an attractive investment opportunity?
Following an extended period of underperformance, the UK stock market is standing close to a historically low valuation compared to other leading global markets, reflecting the underlying sectoral composition and makeup of the market. Looking forward, however, buying assets at low relative valuations has historically been an effective way to achieve strong long-term investment returns.
The latest flurry of acquisitions and takeovers in the UK stock market supports this narrative. In 2021 we saw an abundance of international companies seeking to acquire our domestically listed companies, with the likes of the supermarket chain Morrisons making the headlines. An environment supported by low valuations, low interest rates, favourable exchange rates and an acquirer-friendly takeover code has made certain UK assets extremely attractive to overseas firms.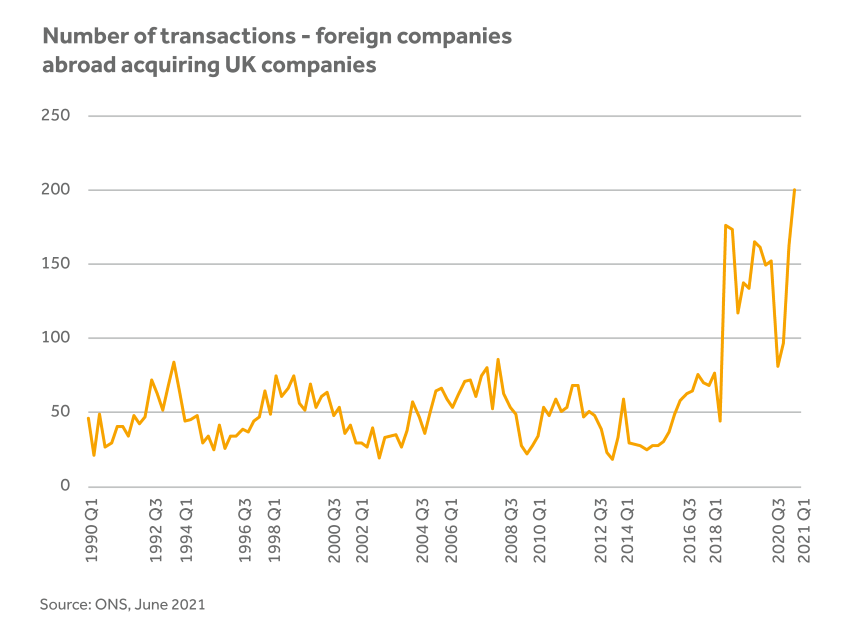 How can I invest in the UK or US stock markets?
It would be a mistake to conclude that the UK is devoid of innovation. The acquisitions of UK technology companies in recent years are good examples of the UK's ability to lead the way in developing niche technologies – and particularly in areas such as fintech, healthcare, video games and engineering.
So, what do we take from all of this? We believe there are strong indications that the UK stock market continues to offer attractive value, including innovative market-leading companies within their respective niches. However, international markets are home to more of the truly exceptional companies of our age, offering opportunities to invest in exciting and transformative companies. We must keep our sights on the very powerful secular trends that look set for strong growth regardless of geography. These trends include the continued adoption of artificial intelligence; cloud data storage; quantum computing; robotics and factory automation; and the internet of things.
Drawing on the expertise and extensive research capabilities offered by our new colleagues at Canaccord Genuity Wealth Management, together we look to the future with excitement.
Find this useful? Want to read more of our current issue of Outlook? Read more here:
Speak to one of our experts
If you have any questions about the current environment or about your investments, please get in touch with us or email enquiries@adamandcompany.co.uk.
Please remember, if you hold an account with Adam & Company, you can check your portfolio value at any time, through Wealth Online or by getting in touch with your Investment Manager.
New to Adam & Company Investment Management?
If you are new to wealth management and would like to learn how this can benefit you, we can put you in touch with our team of experts that can help.
Get in touch
Investment involves risk. The value of investments and the income from them can go down as well as up and you may not get back the amount originally invested. Past performance is not a reliable indicator of future performance.
The information provided is not to be treated as specific advice. It has no regard for the specific investment objectives, financial situation or needs of any specific person or entity.
This is not a recommendation to invest or disinvest in any of the companies, themes or sectors mentioned. They are included for illustrative purposes only.
The information contained herein is based on materials and sources deemed to be reliable; however, Canaccord Genuity Wealth Management makes no representation or warranty, either express or implied, to the accuracy, completeness or reliability of this information. Canaccord is not liable for the content and accuracy of the opinions and information provided by external contributors. All stated opinions and estimates in this article are subject to change without notice and Canaccord Genuity Wealth Management is under no obligation to update the information.
[1] As at November 2021, the total market value of all companies trading on the London Stock Exchange stood at just shy of £4trn (or USD5.36trn). https://www.londonstockexchange.com/reports
[2] MSCI ACWI IMI Index October 2021
[3] MSCI ACWI IMI Index October 2021
[4] Sector breakdown of broad FTSE indices (30 September 2021)
[5] IPO statistics 2021 YTD (Factset)
[6] Sector breakdown of broad FTSE indices (30 September 2021)
Find this information useful? Share it with others...
Speak to the team
Get in touch with our investment experts to arrange a no-obligation consultation to discuss your investment needs with one of the team.

Get in touch
Investment involves risk and you may not get back what you invest. It's not suitable for everyone.
Investment involves risk and is not suitable for everyone.