Discretionary investment management tailored to you
Discretionary investment management lets you hand over responsibility to a personal Investment Manager with the expertise, time and resources to protect and grow your wealth.
When you choose Adam & Company as your discretionary Investment Manager, you will be putting your financial future in the hands of a dedicated team whose wide knowledge, extensive experience and in-depth understanding have led to an investment track record that has historically outperformed benchmarks over the long term.
Our aim is simple: to help make your plans a reality. That's why we believe it's vital to build a relationship with you and totally immerse ourselves in your investments, so you can trust us to act in your best interests and relax knowing your portfolio is in expert hands.
Enjoy the benefits of discretionary investment management
Your personal Investment Manager will always act in your best interests – formulating your investment strategy, researching and analysing investment opportunities, managing your portfolio and making day to day investment decisions for you.
The many benefits of discretionary investment management include:
A personalised investment portfolio built around your needs and aspirations
Freedom from the research, analysis and day-to-day decision making your investment portfolio demands
A close relationship with your Investment Manager, ensuring their strategy is aligned to your goals and they can respond quickly to changes and opportunities
Our collective investment expertise focussed on your future prosperity
Greater diversification across different markets, sectors, asset classes and investment funds
24/7 online access to your account so you always know how your investments are performing
Regular reviews, expert analysis and market updates to keep you informed
Your personal Investment Manager can also liaise with a dedicated independent Wealth Planner to ensure your financial plans and your investments are working in harmony towards your long-term prosperity.
Speak to our investment management team
Book a complimentary, no-obligation consultation now to discuss your investment management needs with our experts.
Get in touch
What your personal Investment Manager will do for you
Liaise with you to establish your long-term objectives and appetite for risk
Build a diversified portfolio of UK and international shares, bonds and funds
Tailor your portfolio to your needs, objectives and preferred level of risk
Regularly check your portfolio against your objectives and our benchmark to make sure it's on track
Actively manage and monitor your investments to maximise returns and minimise losses
Maintain a close relationship with you and update you regularly on the performance of your portfolio
Work closely with any tax, accountancy or legal professionals supporting you, to make sure our decisions dovetail with your other arrangements.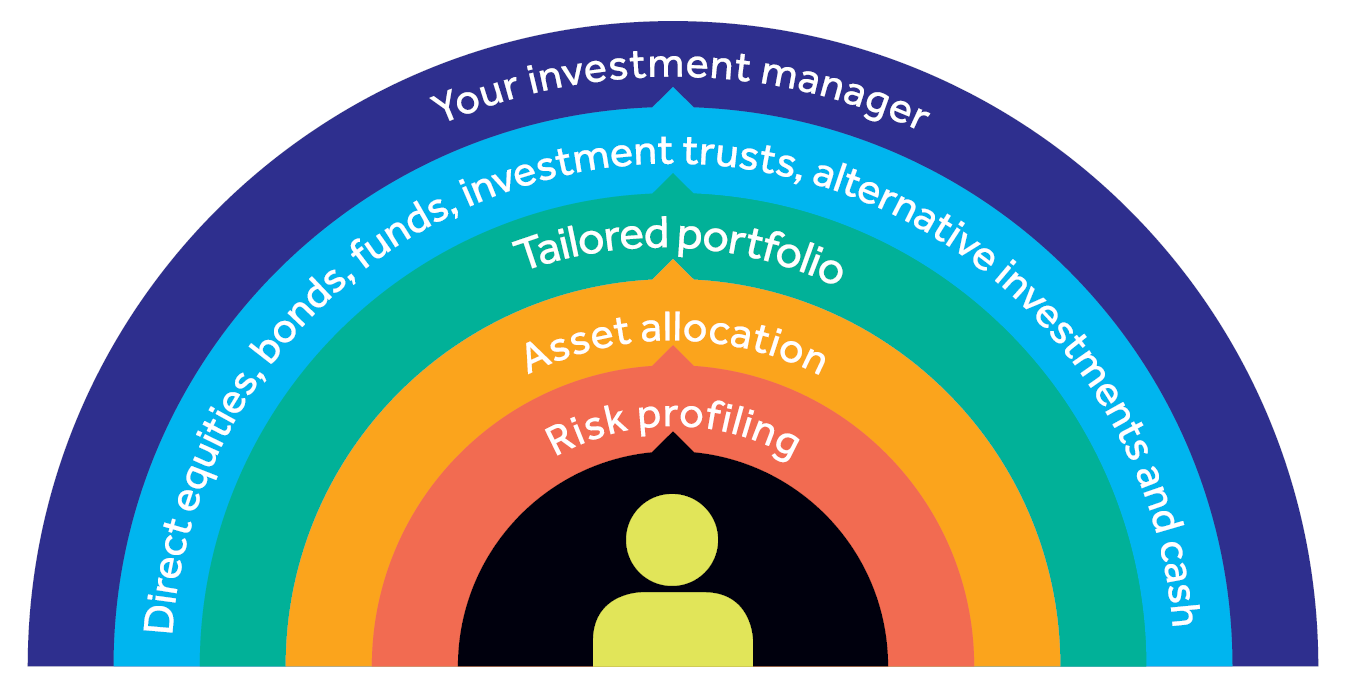 Our investment process underpins what we do for you
Like a combination lock, each layer of our investment process must be aligned before we can create a risk-adjusted portfolio just for you. Our investment experts' rigorous, robust and highly analytical approach is made up of:
In-depth research and continuous monitoring
Selecting investments from the open market to create a range of quality investment opportunities
Accessing many different investments, including securities, equities, funds, exchange-traded funds (ETFs), investment trusts, alternatives, bonds and cash
Choosing from seven different risk profiles to suit your specific attitude to risk
A number of specialist investment committees combining their knowledge to agree the best positioning for your portfolio.
Investment philosophy and process
To find out more about our investment philosophy and process download our guide.
Download
Speak to our investment management team
Book a complimentary, no-obligation consultation now to discuss your investment management needs with our experts.
Get in touch
Investment involves risk. The value of investments and the income from them can go down as well as up and you may not get back the amount originally invested. Past performance is not a reliable indicator of future performance.
Our portfolios are designed to work over a typical investment cycle of 7-10 years, so we recommend you stay invested for at least seven years.
The tax treatment of all investments depends upon individual circumstances and the levels and basis of taxation may change in the future. Investors should discuss their financial arrangements with their own tax adviser before investing.
Our other investment management services
IHT Portfolio Service
Our IHT Portfolio Service is designed to maximise the potential for growth in the short term, while protecting your wealth for the future.
Discover more
ESG portfolio management
Our ESG Porfolio Service is built to enable you to invest sustainably, while thinking about the future for both yourself and the wider world.
Discover more
Small-cap investing
Smaller companies (small-caps) can be an important part of a diversified and well balanced portfolio and having a specialist team to draw on can make all the difference.
Discretionary managed ISAs
With our discretionary managed ISAs, we select your investment assets and manage your ISA portfolio either independently or as part of your wider portfolio.
Fixed income investing
Our industry-leading team can review your situation and advise you on the most appropriate fixed income investment strategy for you.
Discover more
Investment management for charities and trusts
We provide specialist advice and investment management services to the trustees of over 100 charities, foundations and trusts, helping them meet their Investment Policy Statement (IPS) objectives.
Discover more
In simple terms, discretionary investment management is when your Investment Manager looks after your investments on your behalf and makes decisions at their own discretion.
Your Investment Manager acts in your interests and in accordance with the goals, preferences and risk tolerance you have agreed with them. They can also make changes to your investment portfolio without having to contact you first.
By entrusting your investment decisions to an expert, you don't have to worry about day-to-day decision-making, researching investment opportunities and working out how best to diversify your portfolio.
We are committed to providing fee transparency and understand how difficult it can be when you're trying to compare one Investment Manager with another.
However, the highly personalised nature of our discretionary investment management service means the amount paid by each of our clients varies. For example, your tax liabilities, your ultimate goals, currencies, overseas dealing and so on will affect the service you need from us.
That's why we prefer to explain our charges in person, so you're aware of the costs you are likely to incur on top of our annual management charge (which is subject to VAT).
We will be happy to give you a copy of our rate card, which provides a breakdown of our total fees.
Your Investment Manager will also keep you up to date on the total fees you're incurring, and a full breakdown will be included in your quarterly report.
Your personal Investment Manager will be in touch with you regularly to update you on your investments and have honest conversations with you about performance. They will also be available to talk to you whenever you need them.
They will share their knowledge and expertise with you and explain what is being done to optimise your investments.
You decide how often you want updates, and how you prefer to receive them, be that face to face, via video conference or by email. You can also choose how much detail you would like us to go into and can change your mind at any time.
Your personal Investment Manager can also introduce you to legal, accountancy, banking, insurance and estate management professionals, offering complementary services such as portfolio lending, Wills and Trusts.
Book a free

consultation with an Investment Manager
What happens next?
1. Arranging an initial consultation
First you can expect to receive an email from our team within 48 hours to find a suitable time that works for you, to arrange a voice or video call for an initial consultation.
2. Your consultation
During this consultation, a member of the team will discuss your situation with you to understand your requirements and answer any questions you might have about Adam & Company and the services that we provide.
3. Referral to a Wealth Planner or Investment Manager
If you decide to progress with us, you will be referred to one of our Wealth Planners or Investment Managers to discuss your situation and requirements in more detail. They will then design a bespoke proposal detailing a unique investment portfolio that matches your individual requirements and attitude to risk, to meet you and your family's needs.
4. Working with you long-term
With our wealth planning and investment management professionals, your wealth is in expert hands. We will always keep you informed about your investment portfolio and performance and will continue to work with you to build our relationship on your terms. We can meet with you face-to-face, by phone or by email, whichever is more convenient for you. You can also access your account online at any time through our app. Our wealth management professionals are always readily available to speak with you.
Investment involves risk and you may not get back what you invest. It's not suitable for everyone.
Investment involves risk and is not suitable for everyone.