ESG Portfolio management service
Our ESG Portfolio Service lets you take a more responsible approach to investing, enabling you to invest in the future: both for yourself and the wider world.
Each of our ESG portfolios gives you:
A route into investing in ESG (environmental, social and governance) issues
The opportunity to achieve consistent, inflation-adjusted returns
The flexibility to create the parameters of your ESG portfolio based on your unique preferences and requirements
Access to our Chief Investment Office's global investment research
Asset protection through our disciplined investment process
Interested in our ESG portfolio service?
Book a complimentary consultation to find out how our ESG Portfolio Service could help you match your values to your financial goals.
Get in touch
Our approach to ESG investing
Our ESG Portfolio Service is provided by the ESG specialists at Canaccord Genuity Wealth Limited (CGWL), supported by our own Investment Managers.
Our experts take a thematic approach to ESG investing that is not limited by borders, sectors, stocks or business ecosystems. We identify themes that we believe will have a positive long-term impact on both planet and people, and invest in companies that address these themes and demonstrate a tangible positive effect.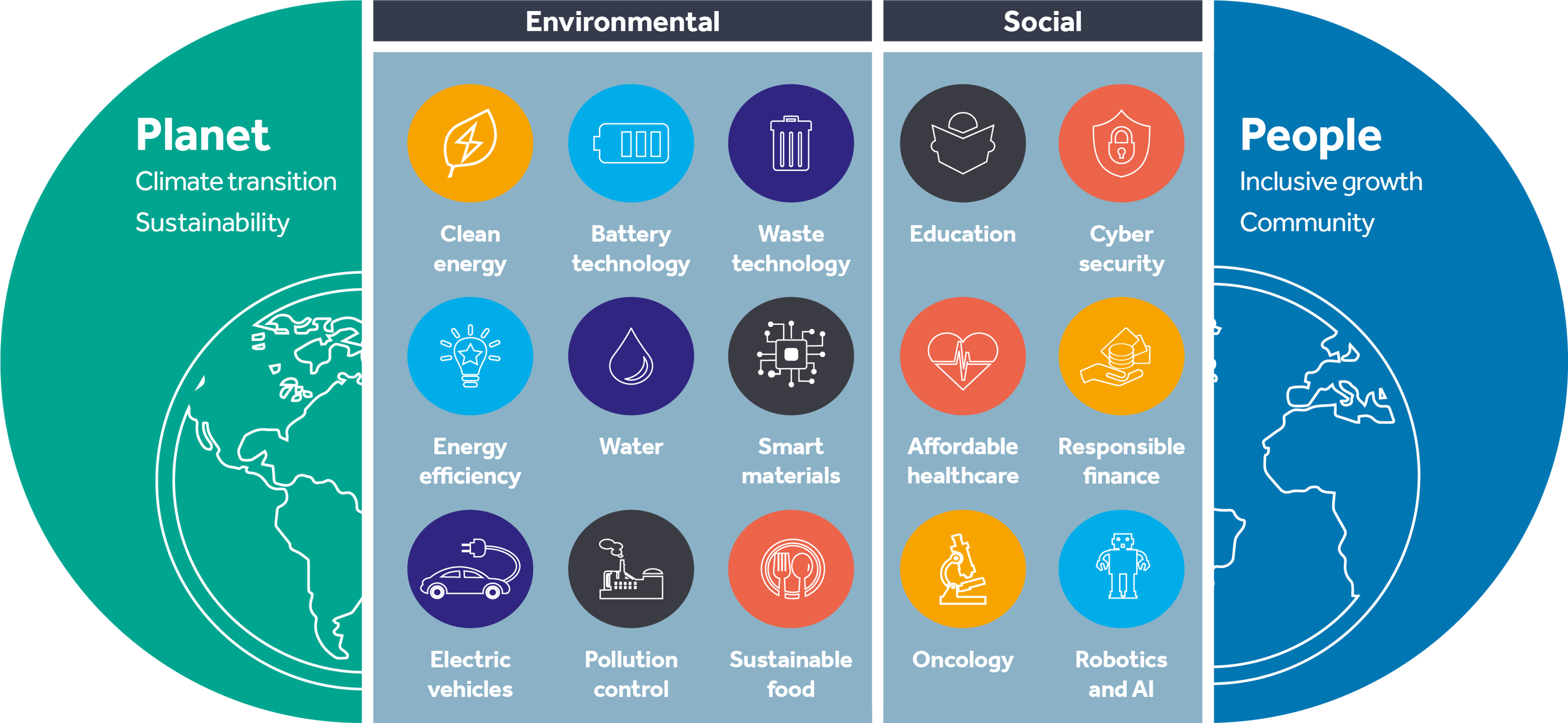 By identifying the ESG investment themes we believe to have the greatest potential, we can allocate our resources efficiently and effectively: as such, our investment process focuses on maintaining consistent exposure to our chosen themes with the aim of achieving positive growth and long-term value for our clients.
How our ESG portfolios work
Our multi-manager ESG portfolios are designed across five different Risk Profile (RP) strategies, allowing you to invest sustainably based on your desired level of risk. Your dedicated Investment Manager will work with you to establish which of our ESG portfolios is most suitable for you.
Your ESG portfolio will be closely monitored by our experienced ESG specialists and managed to ensure your investments maintain your desired level of risk.
Through dynamic asset allocation, your investments will be continuously adapted to align with evolving ESG credentials and ambitions to ensure your portfolio stays in line with your objectives.
All our ESG portfolios are intended to perform over a seven-to-ten-year investment cycle, so we recommend you remain invested for a minimum of seven years.
Why choose us for ESG portfolio management?
Our ESG portfolios enable you to invest for the future and support more sustainable solutions to many global issues.
Our ESG Portfolio Service draws on the global resources and ESG investment expertise of the Canaccord Genuity Group Inc., a global financial services firm operating in wealth management and capital markets.
This global expertise enables us to find ESG funds that meet our thematic objectives while also having a successful track record of outperforming competitors, creating a sensible and sustainable investment strategy for your long-term financial security.
Time to invest for a better future?
Book a complimentary, no-obligation consultation to find out how our ESG Portfolio Service could help you match your values with your financial goals.
Request a consultation
Find out more about our ESG portfolio service
An opportunity to invest consciously while still aiming for positive returns.
Download our ESG brochure
Investment involves risk. The value of investments and the income from them can go down as well as up and you may not get back the amount originally invested. Past performance is not a reliable indicator of future performance.
Our portfolios are designed to work over a typical investment cycle of 7-10 years, so we recommend you stay invested for at least seven years.
The tax treatment of all investments depends upon individual circumstances and the levels and basis of taxation may change in the future. Investors should discuss their financial arrangements with their own tax adviser before investing.
Book a free

consultation with an Investment Manager
What happens next?
1. Arranging an initial consultation
First you can expect to receive an email from our team within 48 hours to find a suitable time that works for you, to arrange a voice or video call for an initial consultation.
2. Your consultation
During this consultation, a member of the team will discuss your situation with you to understand your requirements and answer any questions you might have about Adam & Company and the services that we provide.
3. Referral to a Wealth Planner or Investment Manager
If you decide to progress with us, you will be referred to one of our Wealth Planners or Investment Managers to discuss your situation and requirements in more detail. They will then design a bespoke proposal detailing a unique investment portfolio that matches your individual requirements and attitude to risk, to meet you and your family's needs.
4. Working with you long-term
With our wealth planning and investment management professionals, your wealth is in expert hands. We will always keep you informed about your investment portfolio and performance and will continue to work with you to build our relationship on your terms. We can meet with you face-to-face, by phone or by email, whichever is more convenient for you. You can also access your account online at any time through our app. Our wealth management professionals are always readily available to speak with you.
Investment involves risk and you may not get back what you invest. It's not suitable for everyone.
Investment involves risk and is not suitable for everyone.