Diversification in investing? Go global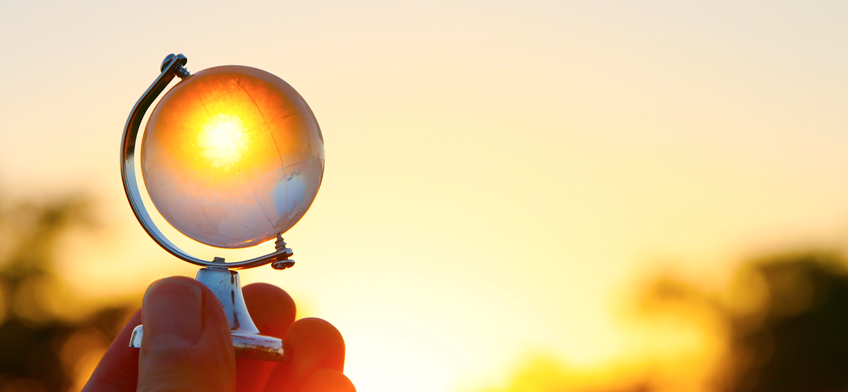 This article was written by Michel Perera and originally published by Canaccord Genuity Wealth Management.
Why you should invest in sectors without borders
Most of us have favourite countries: favourite places to live, visit on holiday, to shop… even to invest in. However, it's vital to keep an open mind about the last decision. At Canaccord Genuity Wealth Management, we believe diversification in investing is vital and our investment managers are experts in choosing the right countries for your portfolio based on your individual needs, risk preferences and ethical considerations.
Are you investing for growth, income or both?
Most investment portfolios are designed to provide growth or income, or even both, depending on your needs.
If you're investing for an income to cover expenses, it makes sense for your investment to be based in the currency of your home country. However, for the growth part of a portfolio, there's no particular reason to focus on currency, and therefore no need to worry about the currency risk to dividends. We can concentrate on getting the best long-term capital returns for you in line with your risk tolerance.
When it comes to investing, home may not be best
Some investors still tell us they prefer to buy shares in their local market. That may make some sense for Americans, since their home market is the largest in the world by a distance, but for all other countries, investors are better served by taking a global outlook and selecting the best investments, regardless of where the companies are located.
At the end of the day, buying equities for growth means sharing a company's future. That company could be headquartered anywhere in the world and have operations globally, so the question of where it's based and listed tends to be secondary.
Why does investing in sectors make more sense?
What matters more for successful investing is which sectors and companies you choose, rather than where the businesses are headquartered. Besides, various parts of the world offer a different focus.
The table below illustrates the distribution of FTSE-listed companies by sector and location.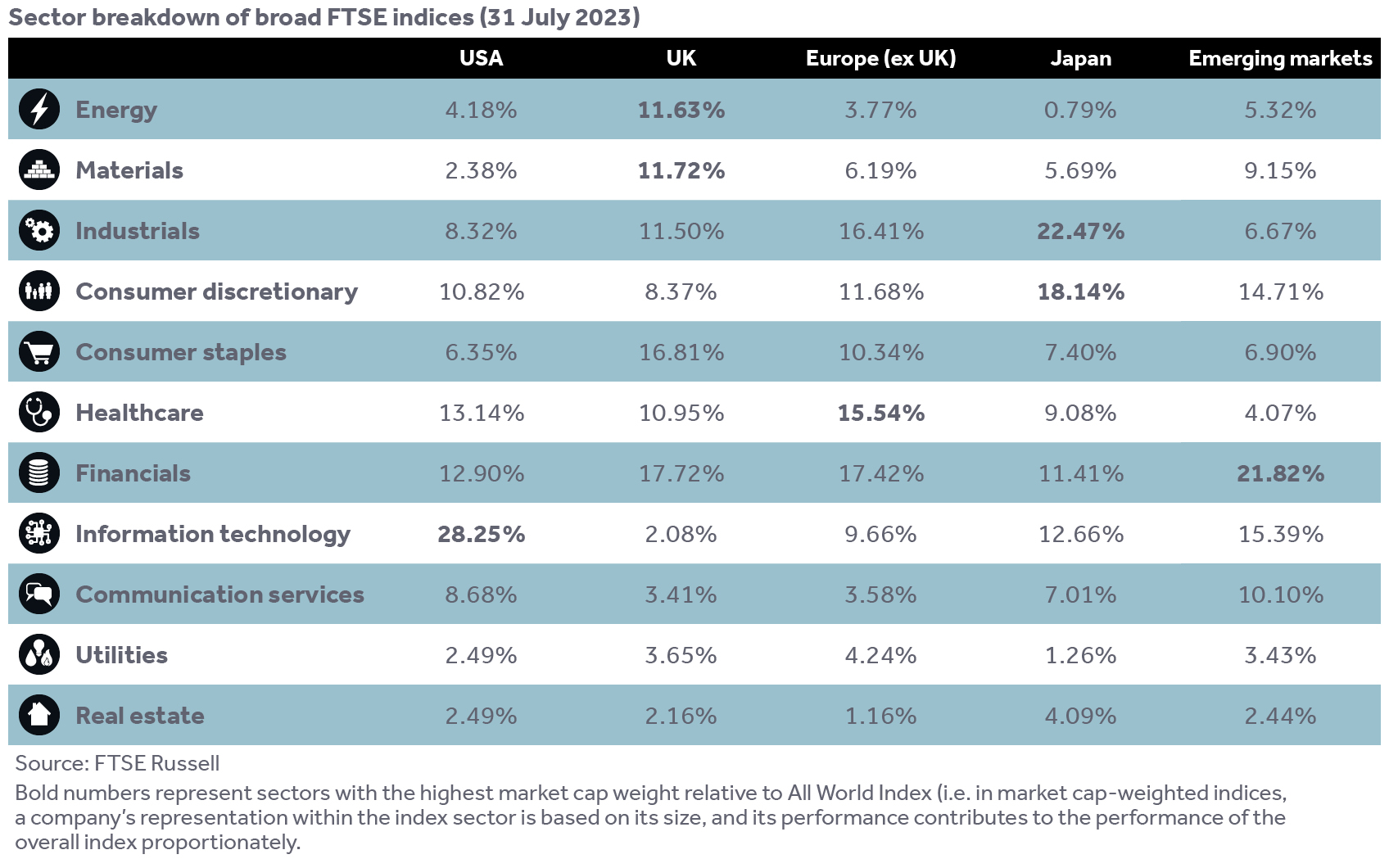 Of course, the vast majority of the information technology sector is based in the US (generally on the West Coast), but other countries or regions have interesting areas of focus as well. The Japanese market has the greatest concentration of industrial and consumer discretionary firms, Europe has a lot of healthcare companies, emerging markets have a larger financial sector. The UK often behaves like a natural resource market, like Canada and Australia, due to nearly a quarter of the index being in energy and materials. On the other hand, the UK has very little quoted technology.
This tells us that picking stocks by country is pretty much a thing of the past. Picking stocks within sectors makes more sense.
Does the FTSE 100 mainly consist of UK companies?
Absolutely not. In fact, the UK market is probably one of the most international in the world, with close to 80% of FTSE 100 earnings coming from outside the UK. It does depend on the sector, of course. Homebuilding companies are naturally quite domestic but energy and resources firms have only a very small exposure to the UK compared to the rest of the world. What matters is the quality of the stock selection rather than the location of the companies themselves.
We often get questions from clients who worry that investing in the UK market means buying into a weak UK economy. Very few of the major UK shares, however, are dependent on the British economy. You can choose to have that particular domestic economic exposure or go for global growth.
Our global approach to diversification in investing
Our global approach to investment diversification means our equity models quite rightly have more exposure to the US market than the UK, but also a significant spread into Europe, Japan, the rest of Asia and emerging markets. Our investment selection process is focused less on the country where the company is based and more on its sector, its business, its valuation and its growth prospects. This approach increases diversification and supports risk-adjusted returns.
In conclusion, there's no need to focus overly on your home market. Don't worry about where companies are based or on which markets they are listed. Look closely at the quality of those companies instead.
Find out more about investing in sectors and our global perspective
If you'd like to know how the investments in your CGWM portfolio are allocated, and which regions, countries and sectors they include, get in touch with your Investment Manager, who will be happy to talk you through it.
If you'd like to find out how our investment experts can help you diversify your portfolio away from the UK, request a free consultation.
Found this interesting? Read more here:
Need more help?
Whatever your needs, we can help by putting you in contact with the best expert to suit you.
Let us contact you
Investment involves risk. The value of investments and the income from them can go down as well as up and you may not get back the amount originally invested. Past performance is not a reliable indicator of future performance.
The information provided is not to be treated as specific advice. It has no regard for the specific investment objectives, financial situation or needs of any specific person or entity.
This is not a recommendation to invest or disinvest in any of the themes or sectors mentioned. They are included for illustrative purposes only.
The information contained herein is based on materials and sources that we believe to be reliable, however, Canaccord Genuity Wealth Management makes no representation or warranty, either expressed or implied, in relation to the accuracy, completeness or reliability of the information contained herein.
Where investment is made in currencies other than the investor's base currency, the value of those investments, and any income from them, will be affected by movements in exchange rates. This effect may be unfavourable as well as favourable.
Find this information useful? Share it with others...
Speak to the team
Get in touch with our investment experts to arrange a no-obligation consultation to discuss your investment needs with one of the team.
Get in touch
Investment involves risk and you may not get back what you invest. It's not suitable for everyone.
Investment involves risk and is not suitable for everyone.