Could digital infrastructure be seen as an alternative asset for investors?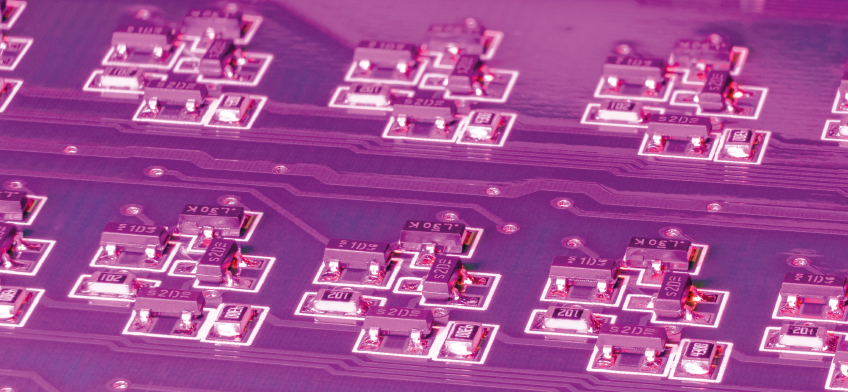 The ongoing rollout and upgrade to our digital infrastructure is clearly a necessity, given how our physical and digital worlds continue to converge. And for investors, this space provides the attraction of long-term, predictable cash flows that aim to protect against inflation. Digital infrastructure is increasingly being seen as an interesting alternative asset for investors.
Another one bytes the dust
Almost two-thirds of the global population now have internet access, a level that has more than doubled since 2010. Even more astonishingly, over the same period, internet traffic (the flow of data across the internet) has risen 15-fold, according to the International Energy Agency.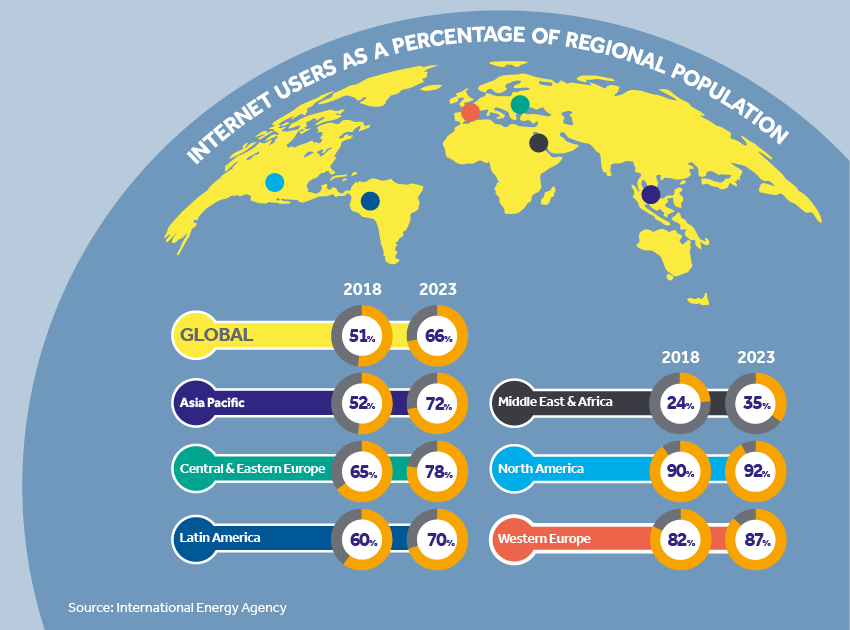 This has been driven by the rise of music and video streaming, online gaming, our addiction to social media, the sheer number of connected devices, and the emergence of data-intensive technologies such as machine learning and artificial intelligence.
Smart connections
Whether you like to call it 'smart' or 'connected', our homes are becoming increasingly advanced – from televisions and electricity meters to ovens and washing machines. On the roads, our cars have now entered this smart ecosystem, with 25GB of data produced every hour from a connected car, while in healthcare, connected devices will play an increasingly important role in patient monitoring and surgical assistance.
As a result, the digital world is becoming more immersive than ever before. Cisco, a global provider of IT communications equipment including networks and services, predicts there will be three times more connected devices than people in the world by 2023.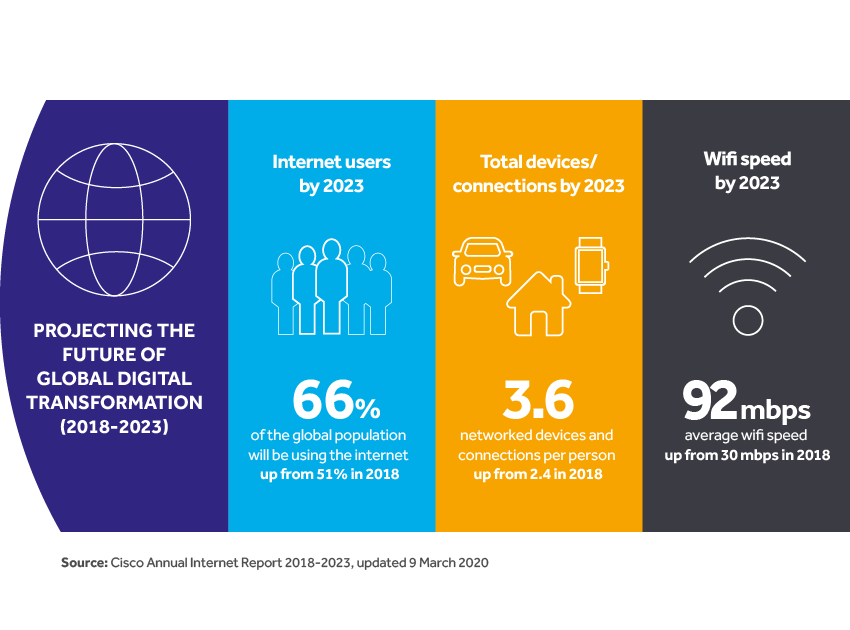 The rise in household and device connectivity and the corresponding explosion of data creation and consumption has placed a huge dependency on the infrastructure that supports our digital ecosystem. However, given the rate of advancement and transformation in the digital economy, the underlying infrastructure is struggling to keep pace with the demands being placed on it. More connectivity, more capacity and higher-quality networks are needed across the ecosystem to prevent what is expected to be a significant supply and demand mismatch.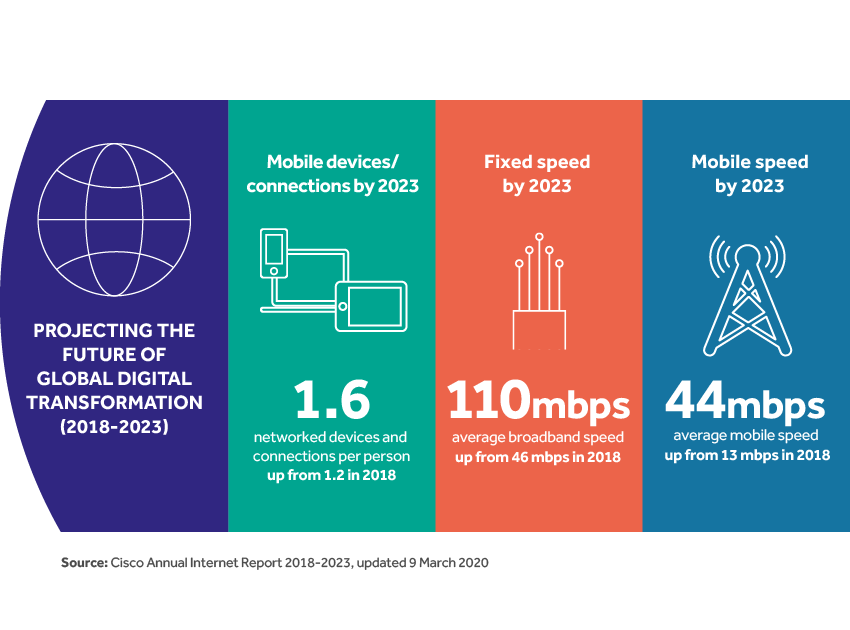 Digital infrastructure assets include the data centres that store and process data, the fibre optic cables and wireless networks that transport data across oceans and countries to our homes, and the wireless communication towers that connect our devices. Ensuring we have enough capacity in this 'network of networks', and that it functions efficiently, is essential for many aspects of our daily lives.
Exploring the biology of the internet – the spinal column
The backbone of the internet is a series of fibre optic cables that harness the speed of light. Currently, 98% of international internet traffic is transported through over 400 active subsea or submarine cables. Together they stretch for over one million kilometres across the sea beds that connect our continents, from the coasts of the USA to Europe, Asia and beyond.
There are around 50 new subsea cables under construction, many in partnership with the tech giants. New cables are required to provide internet access to the developing world, and existing cables, typically with a lifespan of c.25 years, need replacing and upgrading. Given the anticipated level of internet traffic forecast over the coming years, and the existing transoceanic cables that will be retired, it is estimated that there could be an approximate 40% shortfall in subsea capacity by 2026.
Brains and beauty
The brains of the digital ecosystem are data centres, which store and process the world's data and content. These data centres are typically large warehouse-like buildings full of servers that companies (from the tech giants to smaller local businesses) can pay to securely store and process their data and server needs.
Our lifestyles and requirements have adapted to enjoy access to our own content anywhere, on any device – all enabled by cloud computing. In addition, media streaming, video sharing and gaming have grown to dominate internet traffic. This rise has fuelled the necessity for data centres – a trend very much set to continue.
The metaverse is a vision for the future capabilities of the internet, where we will be immersed in a digital environment for socialising, learning, gaming, immersive workspaces and beyond. This next iteration of the internet will be hugely data-intensive and will certainly exacerbate the demand and reliance on our global digital infrastructure and storage capabilities.
Arterial lifeblood
The arteries of the digital network are the terrestrial fibre cables and wireless infrastructure assets that connect our homes and devices. Copper wires, but increasingly also high-speed fibre optic cables, provide connectivity to our homes, while wireless communication towers (known as macro cells and small cells) connect our mobile devices wirelessly on the go (e.g. 4G and 5G).
In this space both fibre and 5G rollouts dominate government agendas. For example, the UK government has an ambition to reach nationwide fibre network coverage by 2033 (it is currently only at 28%) and for the majority of our population to be covered by a 5G signal by 2027. Cisco predicts that by 2023, 5G will offer speeds 13 times higher than the average mobile connection speeds.
Global digital infrastructure opportunities for the future
Away from the UK agenda, while almost two-thirds of the global population enjoy access to the internet, that still leaves a few billion people without access, predominately across large parts of Africa and Asia. Here a lack of even basic digital infrastructure serves as a huge barrier to what could be a massive opportunity for social gain – from online education provision and upskilling, to accessing healthcare and basic financial services and products.
The ongoing rollout and upgrade to our digital infrastructure is clearly a necessity. Investment in the network of networks that make up the world's digital infrastructure will be essential not only to advance the pace of digital transformation globally, but importantly in supporting the progression of those developing nations that could benefit so much from connectivity. And for investors, digital infrastructure developments may provide long-term, predictable performance with the aim of protecting against inflation. It is for all these reasons that digital infrastructure is now increasingly being seen as an interesting alternative asset for investors.
To learn more about digital infrastructure investment opportunities, request a complimentary consultation with an investment manager.
You may also be interested in:
If you want to find out more, get in touch...
If you want to find out more about wealth management and learn how this can benefit you, we can put you in touch with our team of experts that can help.
Get in touch
Investment involves risk. The value of investments and the income from them can go down as well as up and you may not get back the amount originally invested. Past performance is not a reliable indicator of future performance.
The information provided is not to be treated as specific advice. It has no regard for the specific investment objectives, financial situation or needs of any specific person or entity.
This is not a recommendation to invest or disinvest in any of the companies, themes or sectors mentioned. They are included for illustrative purposes only.
The information contained herein is based on materials and sources deemed to be reliable; however, Adam & Company makes no representation or warranty, either express or implied, to the accuracy, completeness or reliability of this information. Adam & Company is not liable for the content and accuracy of the opinions and information provided by external contributors. All stated opinions and estimates in this article are subject to change without notice and Adam & Company is under no obligation to update the information.
Find this information useful? Share it with others...
Speak to the team
Get in touch with our investment experts to arrange a no-obligation consultation to discuss your investment needs with one of the team.

Get in touch
Investment involves risk and you may not get back what you invest. It's not suitable for everyone.
Investment involves risk and is not suitable for everyone.