Using behavioural science in the war against COVID-19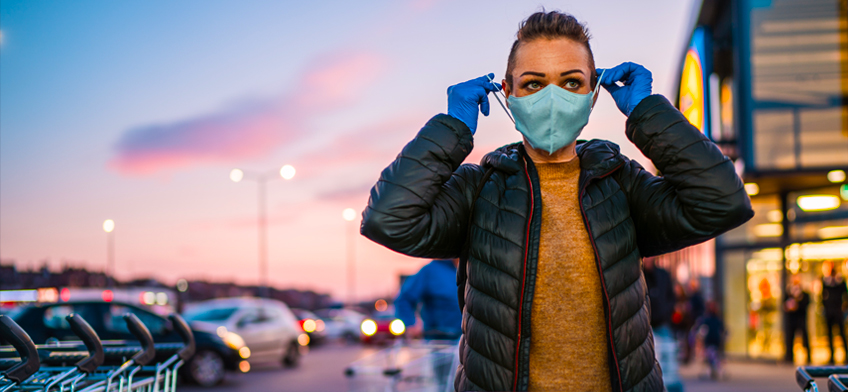 As nations across the globe endeavour to continue to minimise and manage any future spread of the coronavirus to protect our societies, the science of human behaviour has never been so imperative.
In the initial phases of the pandemic, with drugs simply not available, policies had to focus on rapid and dramatic behavioural change on a global and unprecedented scale.
The role of behavioural science in shaping government policy
The insights drawn from behavioural science were fundamental to every nation's response. They shaped the escalating measures taken by governments and were called upon to estimate and encourage public compliance and behaviours. These insights will continue to be instrumental as we aim to combat the virus and ultimately begin our return to a level of normality.
Behavioural science has helped shape government policy for some time. From organ donation to pension enrolment, many policies are designed to encourage people to behave in a particular way, without being so coercive as to prevent a person from making their own decision. These were drawn together into the 2008 book 'Nudge' by Cass Sunstein and Richard Thaler. The latter eventually won the Nobel Memorial Prize in Economic Sciences for developing the theory.
Using nudge theory to influence behaviour
We saw several examples of nudges in the early stages of the Covid-19 outbreak, such as efforts to encourage good hygiene. We were encouraged to wash hands whilst singing along to "Happy Birthday", and replace common greetings such as handshakes with something a little more creative. Adding humour, or something memorable, to a generally mundane task has been shown to be effective.
It is a lot easier to remember to sing a song, than to estimate when 20 seconds have passed. However, as the severity of the spread of the virus increased, it became clear that 'nudging' was not a suitable approach for such a fast-moving and life-threatening pandemic. A far more significant and rapid shift in behaviour was required to slow the spread. Nudges work for a large proportion of the time, however total compliance was needed to stop the spread.
How previous experience can shape our response to a crisis
Different countries moved at different paces in escalating their responses to Covid-19. In Asia, countries moved quickly, drawing on their experience in previous viral outbreaks (SARS/ MERS). In Western economies, responses were arguably slower – underestimating the infectiousness and severity of the virus, and with little experience to draw on from previous recent situations.
The way we draw on our own prior experiences has significant and key behavioural differences to what we see others having experienced. Humans place far more weight on the former (availability bias) and also tend to underestimate the probability of negative events (optimism bias). This second bias may also explain why people continued to break the lockdown rules.
The role of social media during the pandemic
This is also the first pandemic in the era of social media, so our responses as citizens have been in the spotlight for all to see – both the good and the bad. The combination of social media and psychological biases is a truly intriguing one. Used effectively, we have seen human kindness and altruism flourish. Used carelessly, they can encourage bad behaviours.
We witnessed first-hand the surge in stockpiling across supermarkets and local stores – images and news stories of empty shelves and fights breaking out over highly sought-after toilet roll dominated headlines and social media. This came even before lockdowns were introduced. Such stories played into the psychological bias of social proofing or the bandwagon effect – we tend to act in a similar way to others, particularly in times of uncertainty. This behaviour snowballed more recently with panic buying of fuel in the UK.
Social ties and a degree of solidarity are central to getting through any crisis, and this pandemic is no different. We have seen numerous examples where social media has contributed to our solidarity. #clapforourcarers went viral through social media, and in the early stages of the pandemic, each Thursday, the nation took to the streets for a unified demonstration of appreciation.
There was no clearer demonstration of our desire to come together than 700,000 members of the UK public putting themselves forward as NHS volunteers, helping to look after key workers as well as the most vulnerable in our society. In addition, several fundraisers have received global attention, having been showcased and shared in abundance online. The inspirational, late Captain Sir Tom Moore, walking 100 laps of his garden being one such example, which raised millions of pounds. Such calls for help and support may never have yielded such success had it not been for the power of social media and the psychological biases that influence our behaviour in uncertain times.
By playing to our psychological biases, government messages and social media have the power to spread fear, uncertainty and panic at rapid rates. However, they also have the power to bring a nation together, through which altruistic acts flourish. Perhaps Chancellor Rishi Sunak put it best:
"Now more than at any time in our history we will be judged by our capacity for compassion. Our ability to come through this won't just be down to what government or businesses do but the individual acts of kindness that we show each other."
Rishi Sunak, Chacellor or the Exchequor, March 2020
Find this useful? Read more here:
Speak to an Investment Manager
If you have any questions about investing in the current environment, please get in touch with us or email enquiries@adamandcompany.co.uk.
New to Adam & Company Investment Management?
If you are new to wealth management and would like to learn how this can benefit you, we can put you in touch with our team of experts that can help.
Get in touch
Investment involves risk. The value of investments and the income from them can go down as well as up and you may not get back the amount originally invested. Past performance is not a reliable indicator of future performance.
The information provided is not to be treated as specific advice. It has no regard for the specific investment objectives, financial situation or needs of any specific person or entity.
The information contained herein is based on materials and sources deemed to be reliable; however, Adam and Company makes no representation or warranty, either express or implied, to the accuracy, completeness or reliability of this information.
Find this information useful? Share it with others...
Speak to the team
Get in touch with our investment experts to arrange a no-obligation consultation to discuss your investment needs with one of the team.

Get in touch
Investment involves risk and you may not get back what you invest. It's not suitable for everyone.
Investment involves risk and is not suitable for everyone.