Why Adam & Company is a still name you can trust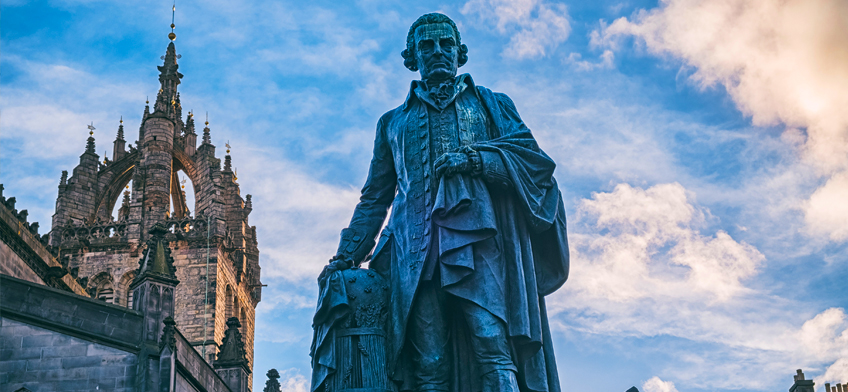 As we join the Canaccord Genuity Group Inc. from 1 October, we wanted to reflect on the significance of brand to all of us, in particular when looking for the right wealth management partner to take care of your wealth.
The importance of a name
In the recent film The Last Vermeer, the character of Dutch art forger Han Van Meegeren makes a powerful point.
In the 1930s and 40s, he perfected a business model which involved sourcing centuries-old canvases, stripping them of the worthless works of unknown artists and painting his own creations in the style of Vermeer using period paints with added Bakelite. Baking these in an industrial oven ensured the ageing, hardening and crackling of a 300-year old. He was able to fool any number of experts and sold them to everyone from international art galleries to the Nazi leaders.
During his trial for fraud, he made the point that with Vermeer's name on them, the art was hung in galleries and traded for exorbitant sums. With the realisation he had created them, everything changed. "These paintings were considered sublime and priceless. Now they are worthless and not one brush stroke has changed" (Source: The Times). The objects remained the same. The name behind them changed, however.
In theory, the signature on a painting should make no difference to your enjoyment of it but the reality is that knowing who painted it, where, when and the meaning conveyed is a huge part of the experience.
Would a rose by any other name smell as sweet?
So, what is in a name? For Shakespeare's Juliet, the fact that Romeo was a Montague was irrelevant. But for the rest of us, the name of the companies we deal with are integral to the trust we have for them. A brand is part of their sustainable competitive advantage and can account for a huge part of a company's value.
Every brand seeks credibility, trust and belief. In times past, brands sometimes tried to look older than they were. They often used classical Greek and Roman script and images in everything from corporate branding to the physical bank notes we still use. By appealing
to the Classical Period or the Enlightenment, they convey authenticity and trustworthiness, which are of course vital above all else, especially in financial services.
Things have changed in recent years, however. The most valuable brands are now tech companies, such as Apple, Google and Amazon. The name Amazon was chosen to convey size and Apple partly to make sure it would be ahead of rival Atari in a 1970s phonebook. None
of their names relates to what they do but over the past couple of decades they have become so much part of our lives that Google has even become a verb.
In many areas, physical action has given way to ones and zeros. We used to hail taxis by jumping up and down and waving our hands to attract the attention of passing vehicles. You can now hail an Uber in a click on your phone and watch the car follow a map to get to you. Payment is automatic, rather than a fumble of coins and notes. The new ways often seem more sophisticated.
This provides important lessons on those seeking to build a business today. Trust still needs to be built but is done so in different ways – does the app load quickly, does it process my instructions correctly, does my online account show me what I expect? Many now have huge sums of money in Non-Fungible Tokens (digital art), digital-only banks and cryptocurrency accounts such as Bitcoin, a digital 'asset' of no intrinsic value beyond what someone else is willing to pay for it. These examples show how consumer demands on digital products have soared in recent years, as has reliance and trust.
Keeping the Adam & Company name, and values, alive
While Adam & Company has changed owners, both we and Canaccord Genuity Wealth Management (CGWM) felt the retention of the Adam name was key. It conveys a commitment to excellence and personal client service, earned over many decades, and these values will not change in the years ahead. It also reflects the fact that the people running your investment portfolios will not change and neither will the philosophy behind them, nor our strong commitment to client service through having a direct connection to your investment manager and meeting you in person when possible. In addition, the large global investment resources at CGWM will enable the investment team to tap into areas of expertise such as global equities and Environmental, Social and Governance investing.
Whatever the future holds in politics, society, economics and markets, we hope to see you soon to bring you up to date with how we see the world changing and how this is reflected in your portfolios.
Speak to an Investment Manager
If you have any questions about the recent changes, please get in touch with your investment manager, contact us on +44 131 380 9500 or email us on enquiries@adamandcompany.co.uk.
Find this useful?
Read more about Adam & Company and Canaccord Genuity Wealth Management here.
Investment involves risk. The value of investments and the income from them can go down as well as up and you may not get back the amount originally invested. Past performance is not a reliable indicator of future performance.
The information provided is not to be treated as specific advice. It has no regard for the specific investment objectives, financial situation or needs of any specific person or entity.
This is not a recommendation to invest or disinvest in any of the companies, funds, themes or sectors mentioned. They are included for illustrative purposes only.
The information contained herein is based on materials and sources deemed to be reliable; however, Adam & Company makes no representation or warranty, either express or implied, to the accuracy, completeness or reliability of this information. All stated opinions and estimates in this document are subject to change without notice and Canaccord Genuity Wealth Management is under no obligation to update the information.
Find this information useful? Share it with others...
Speak to the team
Get in touch with our investment experts to arrange a no-obligation consultation to discuss your investment needs with one of the team.

Get in touch
Investment involves risk and you may not get back what you invest. It's not suitable for everyone.
Investment involves risk and is not suitable for everyone.