What is supply chain management – and why is it important for investors?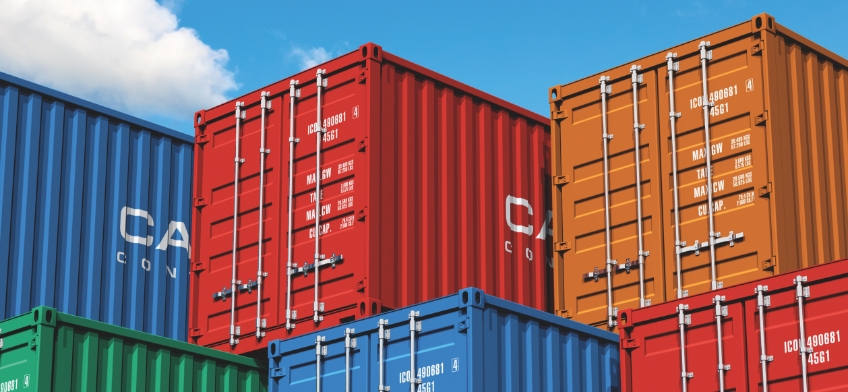 For consumers, you can get pretty much everything you want delivered to your door in a day or two for a much cheaper price than would otherwise be possible. For society, GDP and incomes have risen sharply, especially in the developing world, where hundreds of millions of people have been lifted out of extreme poverty, while ensuring inflation and interest rates remain relatively low across much of the planet. It is not all good, of course – in the short term, new opportunities for emerging economies may mean threats to workers in more established countries.
This 'supply chain management' that emerged in the 1980s was largely unseen by consumers and simply taken for granted. Supply chains are now front-page news, however, and we are all aware of the inability to get what we want when we want it.
This recent disruption could present opportunities for investors, as companies involved in the whole supply chain seek new technologies and innovations to address some of the issues we have seen in the recent supply chain crisis.
How did development of the shipping container originally enhance supply chain management?
8 feet by 9 feet by 40 feet. Made from rust-resistant corrugated steel. And with over 100 million in existence, utterly ubiquitous.
On the face of it, the standard intermodal shipping container is not that impressive. However, according to economist Tim Harford in his book of the same name, they are one of the '50 things that made the modern economy'. They are 'intermodal' because they can be used in different modes of transport – as happy in a cargo ship as on a train or a flatbed lorry – and they have powered the growth of merchandised trade for over 60 years.
Previously, tens of thousands of individual items would be haphazardly loaded onto wooden pallets by hand and then into cargo ships or lorries. It was dangerous, inefficient and costly, often taking longer to load and unload the cargo and process the thousands of pieces of paper than the ocean journey itself. American entrepreneur Malcom McLean's breakthrough in the 1960s was to convince the US military to adopt his standardised container system. They shipped kit to the war in Vietnam, and McLean's empty ships would swing past Japan on the way home to pick up the latest Sony TVs and Toyota cars, all at a fraction of the previous cost.
How have cheap and seamless supply chains transformed international trade?
With the advent of shipping containers, ships can now carry over 20 times more cargo than they could 60 years ago, yet can be loaded and unloaded in a fraction of the time; shipping costs are thought to have fallen 80-90% in real terms during the same period.
Combined with the jump in the number of free trade agreements and information technology, supply chains have become cheap and seamless; they now stretch globally so that manufacturing can be done anywhere. 'Just in time' production has been developed, keeping costly inventories to a minimum thanks to the ability to forecast and match supply to demand.
This globalisation has driven the world economy, with merchandise trade (the value of imports and exports) rising from 20% of global GDP before its invention to almost 50%.
Why is there a supply chain crisis?
With increased reliance on global shipping and supply chains - facilitated by the humble shipping container - the COVID crisis, coming so soon after the tariff disruptions from the US-China trade war, has caused huge problems for business and consumers. Demand for products has jumped as consumer spending has swung from services (travel, hotels, restaurants) to goods (cars, computers, home, and garden wares). This happened at exactly the point when capacity at plants and ports worldwide was cut due to lockdowns and there was no inventory to draw down.
With companies and countries relying on each other, these supply chains have often broken down.
The most famous company no one has ever heard of is perhaps the largest chip maker in the world, Taiwan Semiconductor Manufacturing Corp (TSMC). Its products are found in almost every car and electronic device, and it is at the centre of much of the pressure. Lockdowns combined with a surge in demand for electronic products have caused huge delays in the shipment of cars, computers and games consoles, and huge price rises on the supply which is getting through. You can't sell a car which is only 99% complete, and buyers have been pushing up the price of used ones by over 30% from pre-crisis levels.
As a result, inflation is becoming a problem for consumers, businesses, and central bankers – and economic growth may be reduced as consumers are unable to spend.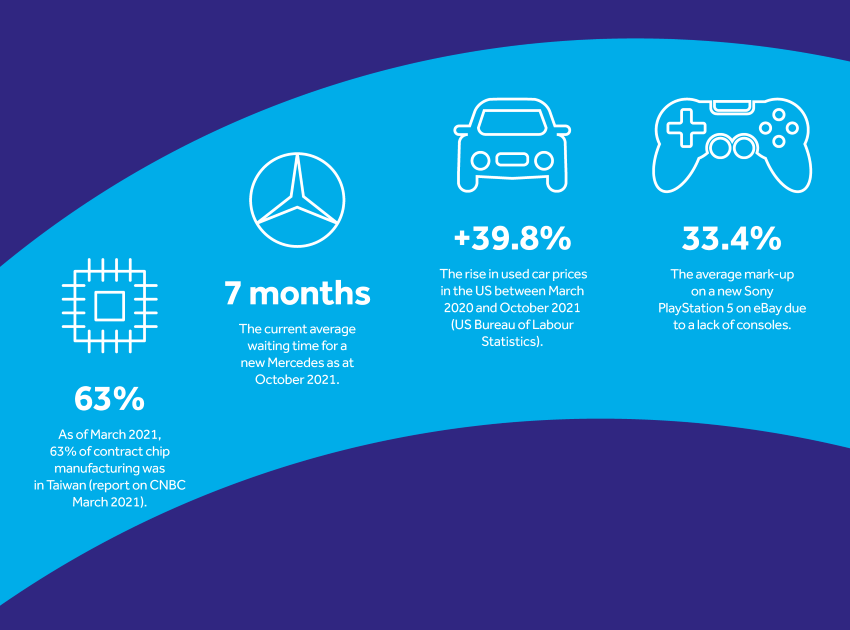 How could solving this supply chain crisis provide an investment opportunity?
While some companies are investing to cope – Amazon has ordered an additional 100,000 electric vans – some of these long-established trade trends may go into reverse as companies and governments seek resilience. Companies may be forced to keep higher inventories. There may be more 'onshoring' – a fancy way of saying bringing production back closer to the point of use. And there may be more 'outsourcing the last mile to the consumer' – a fancy way of saying you need to go to a store to pick up your online order.
This solves some problems around the reliability of supply chains by making them shorter, but it can cause others. Global growth and societal progress may come under pressure. Prices, inflation and interest rates may settle at higher levels than we have been used to in recent decades. And it is far easier in theory than in practice. While most of its production is in Taiwan, TSMC relies on equipment from the Netherlands, silicon wafers from Japan and fine chemicals from Germany.
Having taken supply chains for granted for so long, consumers, companies and economists are now seeing how fragile they can be – and this could present an opportunity for investors as demand rises for new ways of working.
If you would like to find out more about this theme and our approach to choosing companies, please get in touch with your investment manager. They will be pleased to discuss our investment ideas with you.
Find this useful? Want to read more of our current issue of Outlook?
Speak to one of our experts
If you have any questions about the current environment or about your investments, please get in touch with us or email enquiries@adamandcompany.co.uk.
Please remember, if you hold an account with Adam & Company, you can check your portfolio value at any time, through Wealth Online or by getting in touch with your Investment Manager.
New to Adam & Company Investment Management?
If you are new to wealth management and would like to learn how this can benefit you, we can put you in touch with our team of experts that can help.
Get in touch
Investment involves risk. The value of investments and the income from them can go down as well as up and you may not get back the amount originally invested. Past performance is not a reliable indicator of future performance.
The information provided is not to be treated as specific advice. It has no regard for the specific investment objectives, financial situation or needs of any specific person or entity.
This is not a recommendation to invest or disinvest in any of the companies, themes or sectors mentioned. They are included for illustrative purposes only.
The information contained herein is based on materials and sources deemed to be reliable; however, Canaccord Genuity Wealth Management makes no representation or warranty, either express or implied, to the accuracy, completeness or reliability of this information. Canaccord is not liable for the content and accuracy of the opinions and information provided by external contributors. All stated opinions and estimates in this article are subject to change without notice and Canaccord Genuity Wealth Management is under no obligation to update the information.
Find this information useful? Share it with others...
Speak to the team
Get in touch with our investment experts to arrange a no-obligation consultation to discuss your investment needs with one of the team.

Get in touch
Investment involves risk and you may not get back what you invest. It's not suitable for everyone.
Investment involves risk and is not suitable for everyone.