Does disruption in the music industry present opportunities for investors?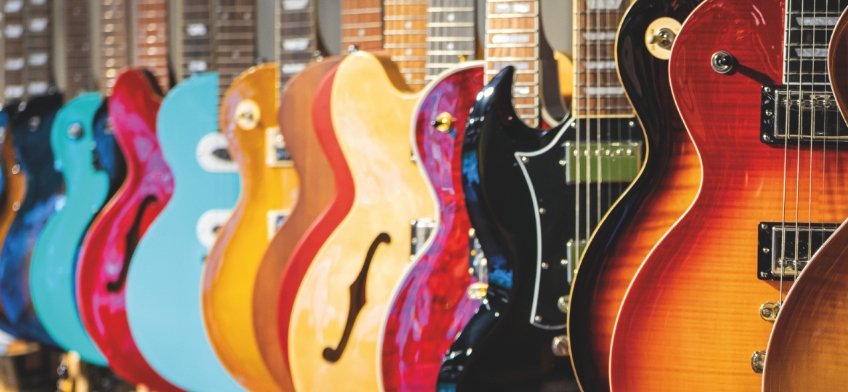 Music has always been at the centre of cultures across the globe, from the ancient Greeks who viewed it as a gift from God to today's 'Swifties' who regard Taylor Swift as a deity in her own right.
In this article we look at how disruption in the music industry has developed over the last few decades and how this has created opportunities for investing in the music industry.
During the latter part of the 20th century, the record labels held all the power in the music industry and made lots of money selling expensive CDs, with industry revenues peaking in 1999. However, the rise of Napster, an illegal file-sharing service for music, introduced a new age where files could be shared digitally with ease. The industry saw 15 consecutive years of revenue decline as we transitioned from CDs to mp3 files to digital streaming.
Streaming helped turn the music industry back to growth from 2014. Moreover, as with many industries in the digital era, we have gone from an ownership model (buying a CD) to a subscription model. Consumers now spend a relatively smaller proportion of their disposable income on music; while a single CD in 2000 might have cost £15, now for less money per month you have a library of 50 million hits at your disposal.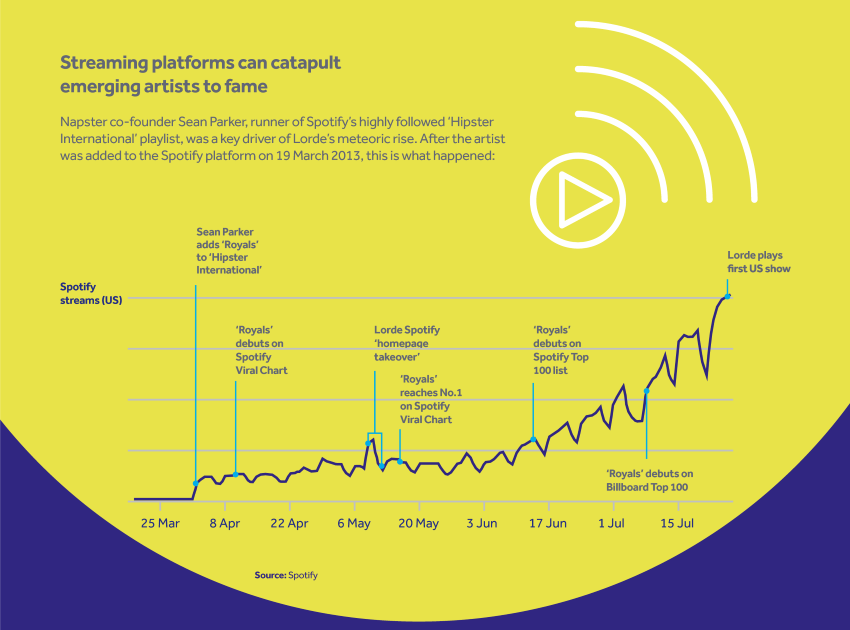 With artists fighting back, how is the music industry changing?
This disruption of the music industry has caused problems around remuneration. While figures differ between platforms and artists, royalties paid amount to between US$0.003 and US$0.01 per stream or, put another way, one million streams generate royalties in the region of US$3,000 - US$10,000. In 2020 Apple1 paid royalties to over five million recording artists, while the number of artists generating over US$1m in royalties has increased 120% since 2017.
Record labels and platforms hold much of the power and take most of the profits, but artists are increasingly fighting back. A platform can make or break an emerging artist, choosing whether their songs are pushed to consumers via algorithms or end up tumbling into a digital abyss. However, artists with established followings are using their influence to tilt the balance of power back towards writers and performers, allowing them to protect the integrity of their art and be fairly paid for it.
With the backing of her fans (186 million Instagram followers at the time of writing) Taylor Swift fought successfully for more of the royalty pie to be shared with artists rather than the labels and platforms. More recently, when Adele launched her highly anticipated album '30', she was able to pressure Spotify into changing the way it distributed music. She insisted that the songs on her album would, by default, play in the order she intended rather than being shuffled and played in the order that was most profitable for the platforms.
Another avenue for artists keen to cash in on their talent is to sell the intellectual property (IP) rights for their back catalogues. Under UK law, the IP rights endure for the artist's lifetime plus an additional 70 years. Rather than wait for royalties to trickle in over decades, artists are increasingly selling these rights to institutional investors for a lump sum. After a lifetime of fame, you might as well be able to enjoy your retirement.
How do investors access the investment opportunities offered by music industry changes?
Thanks to innovations in the asset management industry, investment solutions now offer exposure to these music royalties, enhancing the investment opportunities in an industry where previously you could, at best, obtain exposure to the record labels or equipment manufacturers. And it is not just about buying the rights and sitting on them. The opportunity for value creation here lies in reinvigorating the back catalogues of famous artists to generate enhanced royalties – by featuring on adverts or video games, or introducing old songs to new audiences through platforms such as Instagram and TikTok.
Hipgnosis, a leading investment manager in this space, owns the rights to Bon Jovi's 'Livin' on A Prayer'. Despite the track approaching its 40th birthday, royalties continue to grow because of active management, including appearing in video games such as American Guitar Hero.
The growth in streaming has also massively increased the accessibility of old songs. Younger generations are discovering iconic bands like Fleetwood Mac and Pink Floyd, who remain very popular on these platforms despite their advancing years.
There are lots of opportunities, therefore, for active investment managers to add value. And unlike most conventional asset classes, music consumption has very little sensitivity to economic cycles, making the demand outlook relatively resilient. Music is an inherent part of our social fabric and, as sung by Freddie Mercury, 'the show must go on'.
Find this useful? Want to read more of our current issue of Outlook?
Speak to one of our experts
If you have any questions about the current environment or about your investments, please get in touch with us or email enquiries@adamandcompany.co.uk.
Please remember, if you hold an account with Adam & Company, you can check your portfolio value at any time, through Wealth Online or by getting in touch with your Investment Manager.
New to Adam & Company Investment Management?
If you are new to wealth management and would like to learn how this can benefit you, we can put you in touch with our team of experts that can help.
Get in touch
Investment involves risk. The value of investments and the income from them can go down as well as up and you may not get back the amount originally invested. Past performance is not a reliable indicator of future performance.
The information provided is not to be treated as specific advice. It has no regard for the specific investment objectives, financial situation or needs of any specific person or entity.
This is not a recommendation to invest or disinvest in any of the companies, themes or sectors mentioned. They are included for illustrative purposes only.
The information contained herein is based on materials and sources deemed to be reliable; however, Canaccord Genuity Wealth Management makes no representation or warranty, either express or implied, to the accuracy, completeness or reliability of this information. Canaccord is not liable for the content and accuracy of the opinions and information provided by external contributors. All stated opinions and estimates in this article are subject to change without notice and Canaccord Genuity Wealth Management is under no obligation to update the information.
Find this information useful? Share it with others...
Speak to the team
Get in touch with our investment experts to arrange a no-obligation consultation to discuss your investment needs with one of the team.

Get in touch
Investment involves risk and you may not get back what you invest. It's not suitable for everyone.
Investment involves risk and is not suitable for everyone.