Why investing in gaming is not child's play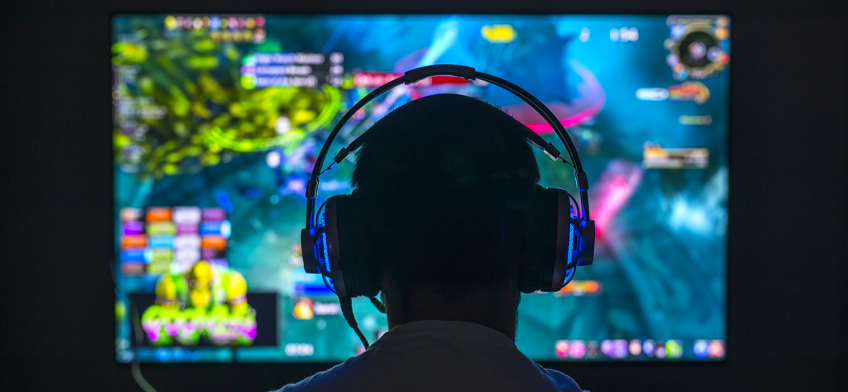 The video gaming industry has evolved considerably since its inception in the mid-1900s and continues to offer exciting opportunities for those interested in investing in gaming. With an estimated 2.5 billion gamers across the globe and a market forecast to generate revenues of US$175.8bn in 2021, (according to Newzoo) investing in gaming is big business.
The average age of a gamer is now someone in their thirties, and while conventional parenting may say otherwise, there are several studies suggesting that moderate video gaming has many benefits, including a rise in problem-solving and memory skills – as well as being a great way to stay entertained.
What is the outlook for the global video games market?
Video gaming is now the largest global entertainment industry - significantly larger than the US$21bn music industry – and is set to grow as we discuss in this article. According to Newzoo, by the end of 2021, there will be 2.9 billion players worldwide and the market is on track to surpass US$200bn in 2023.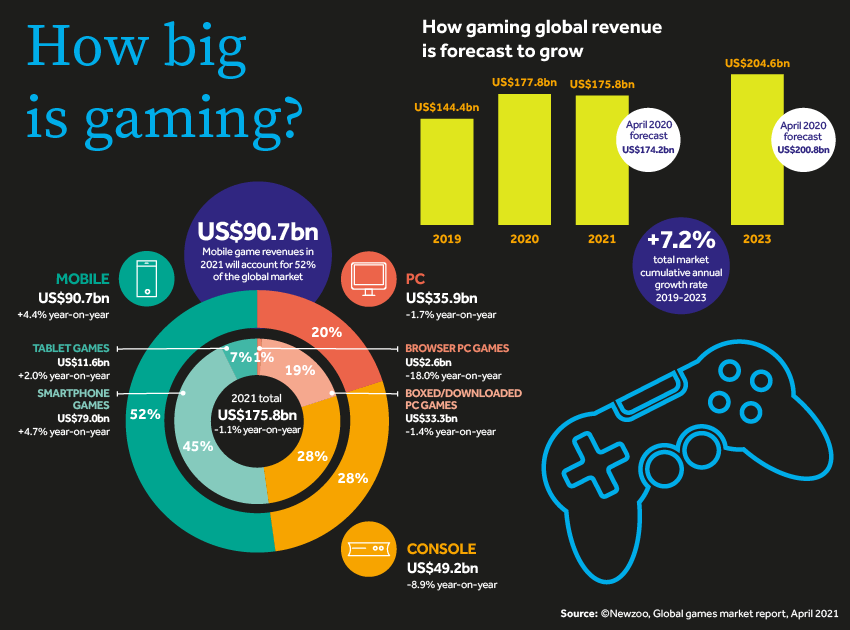 Originally based on traditional games, such as chess and draughts, computer games quickly evolved and by 1972 we saw the emergence of the first gaming console, as we'd know it today. Pitched as 'the family's best foul-weather friend', the Magnavox Odyssey brought video gaming to the people.
Since then, the video gaming industry has been dominated by market leaders Nintendo, Sony and Microsoft, with fierce competition and a fast-growing market driving console innovation over the last 20 years. Whereas the Odyssey sold in the region of 350,000 units, the latest PlayStation and Xbox consoles have reached 175 million sales.
COVID-19 and lockdown measures have also helped the video gaming market, as people looked for activities to fill their enforced time at home. 'Virtual playgrounds' helped school children mix online when they couldn't go out, while video games let people engage in their desire for fantasy and escapism. Video gaming appeals to a broad audience, with games and content to suit every taste: from sport and racing, to fantasy, exploration and education.
But it is the rapidly shifting distribution model that is offering up interesting developments for investors in gaming.
How is the changing model of video game distribution enhancing the investment market opportunity?
In recent years, those seeking to play video games have accessed them through three devices: personal computer (PC), console or mobile. More serious players typically needed the far-reaching computing power of a PC, or at least a console; but if you just had a bit of time to kill, such as on your commute to work, mobile games appealed.
However, the traditional model of game distribution is shifting as a result of the growth in cloud computing and ultra-fast internet, which enables remote computing at data centres owned by the likes of Amazon or Microsoft. Previous issues with internet speed meant a multi-player game couldn't work if there was too much latency (delay) between the interactions of the various players. But with ultra-fast internet, the image, audio and interactions can be streamed direct to the screen which means video gaming becomes device-agnostic.
This creates a distribution model that is much more accessible and scalable to the masses. The previous barrier to entry in video gaming was the £400 console cost. With this new model, gamers can use their existing devices and stream for a modest sum, thus extending the appeal of video games in both developed markets and emerging markets. With smartphone penetration and investment in high-speed internet growing across the world, other economies (beyond the large gaming countries, like the US and China) will increasingly be able to access this new and exciting form of entertainment.
How will investing in gaming and technology companies overlap?
Global technology companies, such as Amazon, Apple and Netflix, have innovated to capture our music and TV spend – and now they are looking to tap into the gaming market and seize a greater share of our entertainment spending.
As with music, film and TV, these tech giants are moving consumers from a buy-and-own model to a subscription-based streaming model. Gamers will be able to stream a vast range of games direct to their devices for an affordable monthly fee – and with an estimated 2.5 billion global gamers (Source: Newzoo), this is only set to grow.
This is great news for the game creators, as these platforms need to be filled with content to play. With developers such as Frontier and engineers such as Keywords, the UK has a vibrant content development scene that will benefit from these developments; alongside global content creators ike Activision Blizzard.
Investing in gaming is a serious business, not a game
As video gaming increasingly becomes a mainstream source of entertainment, the words of Mario creator Shigeru Miyamoto ring true: "Video games are bad for you? That's what they said about rock and roll."
The opportunities to invest in this growing industry are many and varied, from the global tech giants to the UK-based small-cap game creators. If you would like to find out more about investing in gaming, speak to an Investment Manager.
Find this useful?
Read more insights from us here.
Speak to an investment manager about our services
If you have any questions about investing in gaming and how this might offer an exciting investment opportunity, please get in touch with us or email enquiries@adamandcompany.co.uk.
As part of Canaccord Genuity Wealth Management, we can also draw on the Group's significant experience and expertise in small-cap investing if you are particularly interested in some of the UK's video game creators.
New to Adam & Company Investment Management?
If you are new to wealth management and would like to learn how this can benefit you, we can put you in touch with our team of experts that can help.
Get in touch
Investment involves risk. The value of investments and the income from them can go down as well as up and you may not get back the amount originally invested. Past performance is not a reliable indicator of future performance.
Investing in smaller companies, including AIM stocks, carries a higher degree of risk than investing in the more liquid shares of larger companies, so they may be difficult to sell at the time you choose. Investments in smaller companies are more volatile and, while they can offer great potential, growth is not guaranteed.
The information provided is not to be treated as specific advice. It has no regard for the specific investment objectives, financial situation or needs of any specific person or entity.
This is not a recommendation to invest or disinvest in any of the companies, funds, themes or sectors mentioned. They are included for illustrative purposes only.
The information contained herein is based on materials and sources deemed to be reliable; however, Adam & Company makes no representation or warranty, either express or implied, to the accuracy, completeness or reliability of this information. All stated opinions and estimates in this document are subject to change without notice and Adam & Company is under no obligation to update the information.
Find this information useful? Share it with others...
Speak to the team
Get in touch with our investment experts to arrange a no-obligation consultation to discuss your investment needs with one of the team.

Get in touch
Investment involves risk and you may not get back what you invest. It's not suitable for everyone.
Investment involves risk and is not suitable for everyone.